5 Natural Cleaning Substitutes You Can Make At Home
Posted by Elizabeth Lee on Thursday, January 6, 2022 at 8:00 AM
By Elizabeth Lee / January 6, 2022
Comment
Get On Your Brightest Clean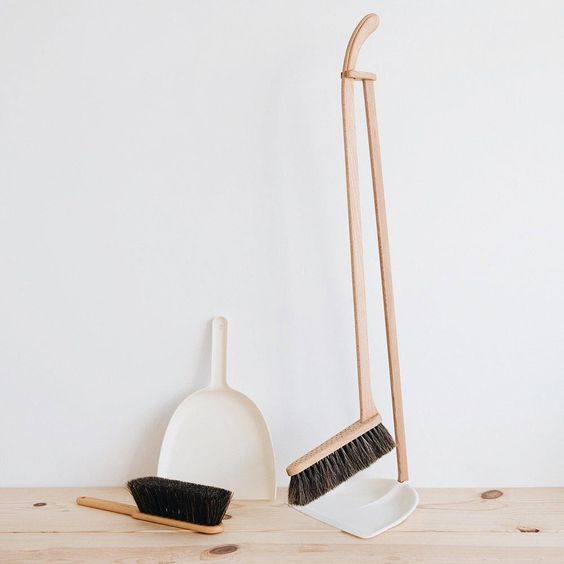 It's a New Year and many people are kicking it off by implementing healthier options and habits into their routines. The new year offers a 'clean slate', an opportunity for new beginnings, and a fresh mindset to conquer goals.
Whether it's a gym membership, adding more vegetables to meals, spending more time with family, or reducing screen time each habit that is put into place is in hopes to create a greater and more fulfilling life.
After the holidays once all the decor is taken down and stored away there is also a common yearning to clean your home so you can focus more clearly.
When it comes to cleaning our homes, we most often think about wanting to rid it of dirt, dust and germs, so we reach for the closest cleaning agent. But regular household cleaning supplies are often filled with chemicals that can be harmful for our bodies and our homes. Here are 5 safer, natural and green substitutes to have on hand to make your own house-cleaning agents for your brightest, cleanest clean.
1. Borax
Basically a salt compound, Borax is very versatile for home use. Add it to laundry to add extra clean, pour some in your toilet boil give a swish of the toilet brush, let sit and flush. Make a paste and use as a scrub for the shower and bath. Borax removes carpet stains, deodorizes garbage bins, and the list go on. It is a household staple for a greener clean, and something that should always be under the kitchen (or bathroom) sink. You can typically find Borax powder at hardwares stores or in the laundry aisle at big-box stores.
2. Essential Oils
Essential oils may be all the rage right now, but for good reason. Again, a very versatile product, essential oils do more than just help your body, spirit and mind, they are amazing for cleaning. They are full of anti-bacterial, antifungal and antiseptic properties, making them kill the germs as powerfully as the toxic chemicals found in our regular cleaning supplies. A little goes a long way and they just smell so darn good. Essential oils are a must for adding to your "greener clean" list, especially; Lemon, Tea Tree (Melaleuca), and Peppermint.
Lemon: cold pressed from the peel, Lemon essential oil works well on stains and brightens whites in the laundry, gives a nice shine to white floors, removes stickiness, grease and grime, and gives an uplifting refreshing scent to any homemade room spray. You can find at natural grocery stores or below on amazon.
Tea Tree: the most antibacterial, antiseptic and antifungal of essential oils, Tea tree oil is ideal when it comes to those mold and mildew prone places in the home. The bathroom, kitchen sinks, windowsills, even toilet bowls and floors. Add to a spray bottle with water and spray down these areas. You can give a scrub if needed, and leave on the spray without washing off. You can add this oil your laundry detergent for a therapeutic scent and to help kill off laundry germs. If you were to only have one essential oil to have on hand for cleaning, Tea Tree oil would be it.
Peppermint: A good overall antiseptic oil, Peppermint works well added to a spray bottle of water for surface sprays, like the kitchen or bathroom counters. It is also a pest deterrent; add a few drops around windows and doorways to aide in keeping those bugs out.
3. Baking Soda
Similar to Borax, Baking Soda is a powdered compound with versatile uses. It is a deodorizer, it adds to whitening up laundry, and can be made into a paste for scrubbing tiles and tubs. It also can help to whiten teeth! You can find baking soda at almost any grocery store, pharmacy or big box retailer like Target or Walmart.
4. White Vinegar
White vinegar is large component to a healthier clean regime. It kills mold, takes out stains on surfaces & clothing, sanitizes surfaces, cleans windows and glass, it deodorizes…the list goes on. Add vinegar into a spray bottle with water and essential oils of your choice and you have yourself an easy (and healthy) 'go to' cleaning agent. Forget to move your laundry into the dryer? Re-wash your clothes with a couple tablespoons of vinegar and the musty smell is taken away. This is the staple to always have under your sink.
5. Hydrogen Peroxide
Made up of only water and oxygen, Hydrogen peroxide is a super safe and effective disinfectant. Add either straight (3%) hydrogen peroxide into a spray bottle to use inside your fridge or counters, or you can mix it 50/50 with water. Use on wooden cutting boards to sanitize. If your drains need a good little clean, sprinkle some baking soda and a tablespoon or 2 of hydrogen peroxide and watch it bubble away the drain grime. Hydrogen Peroxide is great as a toilet bowl cleaner too, because it's gentle on septic systems. It's also a great substitute for bleach in your laundry, to help whiten and remove stains. Just add a cup of it to your load. Or sterilize your toothbrushes by soaking the bristles for a few minutes, giving them a rinse after. All in all, Hydrogen Peroxide is a great addition to your healthier cleaning regime.
Credit: TheGoodTrade